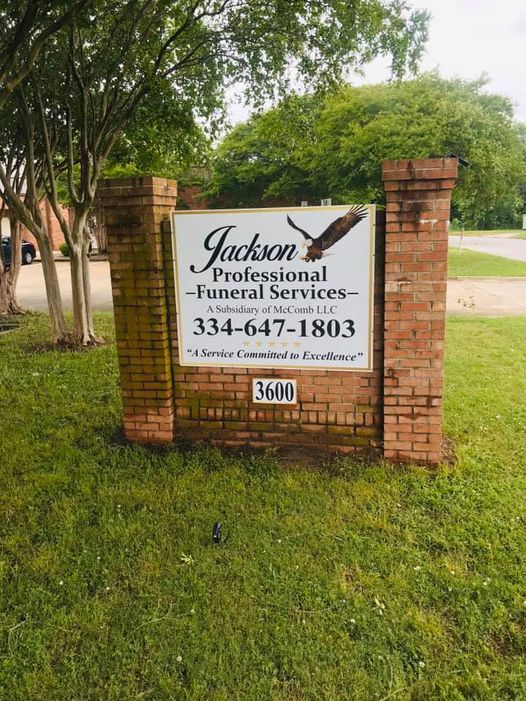 By Mikala McCurry
Lawrence Jackson, owner of Jackson Professional Funeral Services, is best described as a 42-year dreamer. From the age of 9 years old, Jackson had a vision of owning and operating his own funeral home. He worked hard and kept pushing and pursuing until he attained it. He started off sketching buildings, sketching caskets, and reading books about embalming and funeral directing. Now, Lawrence Jackson is regarded as a "Pioneer for Excellence" in the Funeral Service Profession.
Lawrence attained his first job at a funeral home at the age of 17. While working there, the funeral home director made him spend the night in the funeral home to make sure he wasn't afraid. "Although I was afraid, I loved it." Jackson said. "It's a passion, a gift, and a ministry." After losing family and close friends, Jackson is able to use his platform to help others when they are going through grief. He has been working in the funeral home business for over 20 years.
Lawrence began his career in the funeral industry in 1996. He is licensed by the Alabama Board of Funeral Service as a Licensed Funeral Director. Along the way, he has extensively worked in administration, fulfilling many roles for various funeral establishments. Using every experience as an opportunity to improve the industry, and ameliorate his skills, Mr. Jackson steps forward endowed with a level of dexterity, and competence unparalleled to the common standard. He is a visionary, and strives to provide excellence, and complete satisfaction for his clients while providing funeral, and memorial options that properly compliment the lifestyle of the deceased and appease the desires of the family.
The process of opening his own funeral home was very tedious and heartbreaking at times. "It's never like you plan it to be." Jackson said. "During the process, things change." He had to tolerate discouragement and overcome many disappointments and naysayers; however, he continued to pray and push until he achieved his vision. Lawrence and his partners, Bishop Carl & Christine McComb, along with his mom officially opened the doors to Jackson Professional Funeral Services on April 15, 2020. Since then, he has already served many families of various backgrounds throughout the state of Alabama.
As a new business opening during the COVID-19 pandemic, Jackson commented that the launch process was difficult and scary. "We didn't have any financial programs to help us," Jackson said. "Right when we were getting ready to finalize, COVID hit." Still, Jackson and his team of 15 staff members persevered and were able to open.
A major symbol representing Jackson's business is an eagle. "The eagle has always been a symbol of strength and power. "Jackson said. "My favorite scripture is Isaiah 40:31 that says, 'but those who hope in the LORD will renew their strength. They will soar on wings like eagles; they will run and not grow weary, they will walk and not be faint.'(NIV)." While most funeral homes utilize a dove, praying hands, or a wreath as symbols, Jackson wanted a symbol of strength.
The mission of Jackson Funeral Services is to provide excellence, integrity, and compassion at the heart of every service. "Every single family we serve, I place myself in the mourners' place for every client," Jackson said. "No matter who it is. From start to finish, even during the aftercare with the families, I put myself in their positions. Everything that we do here is as if we are sitting on that front row." To Jackson and his staff, this authentic empathy comes naturally. With a decline in professionalism and customer service in the service industry, Jackson wants his clients to ultimately be satisfied and have the best experience possible.
When it comes to integrity, Jackson believes in being honest and transparent with his clients in what they can expect and what not to expect. "Although we are equipped to do more than most funeral homes, we want to make sure that they [clients] don't ever feel deceived in their price or level of service they have expected to receive," Jackson said. "In fact, we strive to exceed every expectation."
Jackson and his team do not see their work at Jackson Professional Funeral Service as a job. Having lost loved ones before, each team member is empathetic and compassionate to the services they offer. Before they start each service, Jackson and his team get together and pray to make sure that they are able to give each family what God would have them to give, meet the needs of the family, and leave an impression with unmatched class. "I just believe there is not a level of service locally that can provide what we provide," Jackson said. "In here, you don't have to accept the status quo. Whatever you think or dream of, we want to reflect the life of your loved one and your wishes."
Jackson Professional Funeral Services has a 9,000 square-foot facility and offers several all-inclusive services with affordable pricing, including pre-planning, graveside services, cremation options, many funeral service options, traditional services, and nontraditional services. They are equipped to accommodate funerals outdoors and more than one funeral at any given time. All services and products, including caskets, are completely customizable. They also have cremation jewelry, fingerprint technology, and free notary services. They also assist people with voting. Jackson Professional Funeral Services is a bilingual organization able to service the Spanish-speaking community. They also perform in-home arrangements, socially-distanced arrangements at the facility, or online arrangements through zoom. They have the ability to provide live-streaming, drone services, and horse and carriage escorting. Veterans, military, and officers receive a 20% discount on services. They also offer grief counseling services. "We're not your average funeral home," Jackson said. "We do the whole 9 yards."
To learn more about Jackson Professional Funeral Services, visit www.JacksonProfessionalFS.com or search Jackson Professional Funeral Services on Facebook.
All rights reserved, Gumptown Magazine. Copyright 2020.