By Alexis Butler and Jamal Thomas
Montgomery,AL– Imagine a new Montgomery and River Region. Amusement parks, branded grocery and drug stores, arts, entertainment, and even a printer's row. Marshall Taggart, Jr., Executive director of the Montgomery Regional Airport (MGM), is hoping to make MGM the core of completing that vision.
Taggart accepted this position in May of 2019 and created "Moving MGM Forward – Vision 2025" as his theme. Taggart is no stranger to the aviation business. In fact, he has over 20 years of experience. He served as Deputy Aviation Director at Dekalb Peachtree Airport and Tallahassee International Airport. He also served as the National Director of Airport Business Development MediaShift, Inc. Taggart's aviation background includes progreesive roles in various areas: Chicago Midway, Chicago O'Hare, and Hartsfield-Jackson International Airports. 
Montgomery, unlike Selma, Mobile, Huntsville, and Birmingham, has faced an ongoing issue with keeping constant air traffic in and out of the city. It is apparent that Montgomery can maintain traffic during both football and legislative seasons, but what about the months in between?
"How do we get people to stay," posed Taggart. MGM has just proposed it's newest rewards program to the board, the first of its kind, in the state of Alabama. The goal is to fill seats to capacity on all flights, which Targgart refers to as "cheeks in seats." With this new rewards program Taggart plans to take MGM to new places by expanding their flights to Chicago, Houston, New York, Orlando, and other cities in the state of Florida. He also plans to offer cheaper flights from lines like Spirit and Frontier.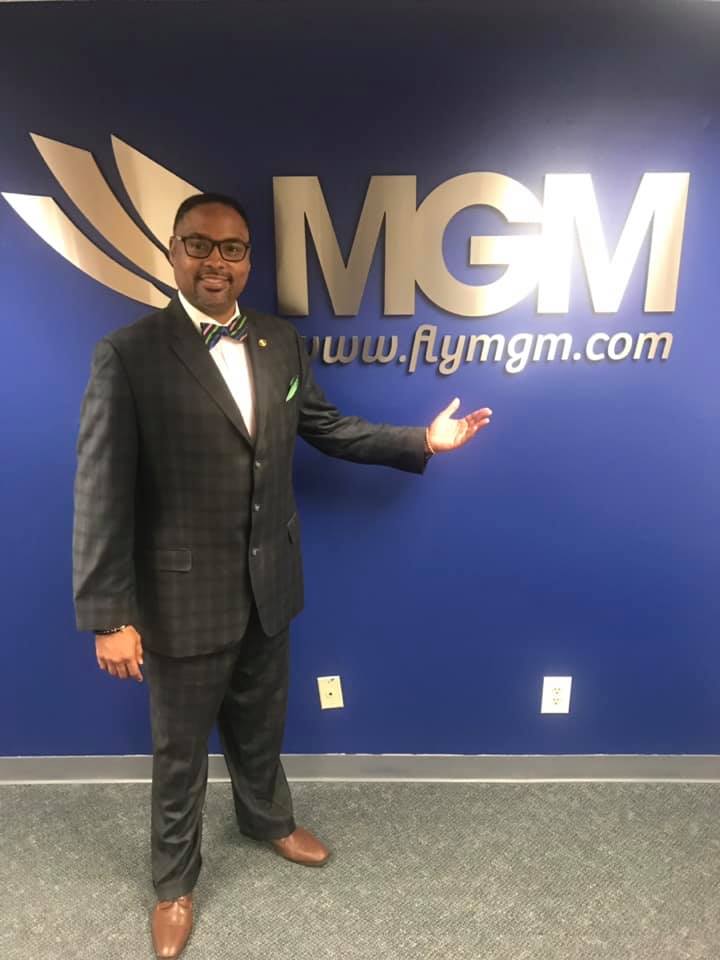 Taggart says that MGM must first prove to airlines that they can grow and make a profit. "We have a good chance with Equal Justice Initiative (EJI)," Taggart says. EJI developed the Legacy Museum and The National Memorial for Peace and Justice. With these two attractions, Montgomery is able to see a more constant flow of people in and out of the city. However, Taggart feels that there must be an increase in development in order for Montgomery to sustain. Taggart knows that in order for the city to expand Montomery must target millennials, an untapped market.
When it comes to community, Taggart would like to host career fairs within the airport that will show young black African American boys and girls that they can work in aviation. Taggart wants to inspire them, especially since he is the first African-American to serve in his current position. He wants to show them that they can fly a plane, run an airport, or even do mechanical work on airplanes. In addition, Taggart wants to partner with Montgomery Public Schools (MPS) to bring this to fruition.
For the future of MGM, Taggart believes that our city deserves more. More being first class flights, TSA, proper rental car facilities, 12 gates rather than six, hotels connected to the airport, and numerous jobs offered. "With all of these things MGM will become the economic engine."
Taggart believes that he is uniquely qualified for this position and intends to partner with city and county government, MGM board members, university presidents, and the military to create one focus and one mindset. "As we come together as one, we can begin to rebrand Montgomery with MGM, similar to how Atlanta transformed to ATL."
Since taking on this position Taggart has made it his duty to make MGM and Montomgery a better place. He wants to use his role as the Executive Director of MGM to help increase the development that is happening in the city. With time, development, and partnership, MGM will be flown internationally.
Taggart holds a bachelor's degree in accounting and master of public administration degree from Clark Atlanta University (CAU). He is currently completing his dissertation for his doctorate in political science with dual concentrations in Urban and U.S. politics from his alma mater. Marshall and his wife Sherri, also a CAU alumna, have two adult children.
All rights reserved, Gumptown Magazine. Copyright 2019.