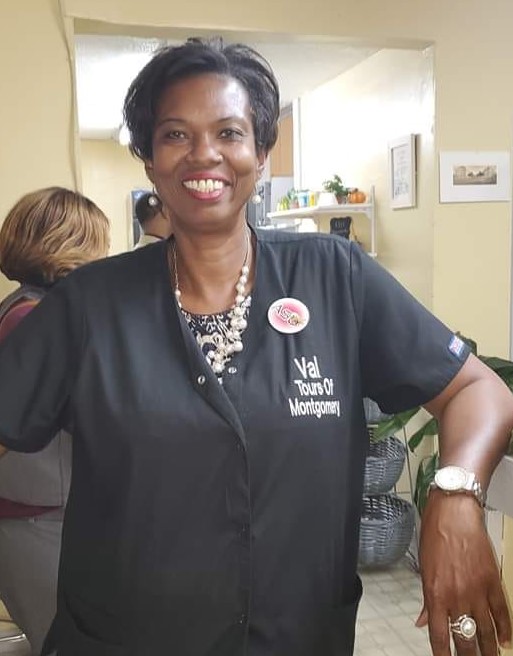 By DiVonta Palmer, Communications Intern
Montgomery, Alabama- The late gospel singer Grammy winner, Rev. James Cleveland, once sang these words: "Give me my flowers, while I yet live. So that I, I can see the beauty that they bring." On Tuesday, I had the grand opportunity to meet and interview an amazing young woman. Her name is Valerie Smedley, and she is the owner of Tours of Montgomery which is located in the historical Centennial Hill district at the corner of High and Jackson Streets. Gumptown Magazine is happy to announce we are highlighting her and her wonderful business.

When asked what influenced her to take on this project, she replied, "Well I can't say I was influenced by anything that happened to me in the past. Because those people that know me, my history or my background is military and law. So, history or civil rights or none of that was just not in my forethought, but you never know what God has for you in your purpose." She goes on to say that it was the Holy Ghost who spoke to her to do this. She is a former lawyer and stands proud to be the second black female to achieve the rank of lieutenant colonel in the Alabama Army National Guard, the first black female battalion commander, and the first black female instructor at the Alabama Military Academy. She explains that everything she set out to pursue, God allowed her to do so and do it well.

In light of all her numerous achievements though, she now feels she is fulfilling her lifelong purpose. "So, I ended up here in Centennial Hill and right now my heart, and my spirit, and my soul is just head over heels at the history of this intersection… Martin Luther King, John Lewis, and Ralph Abernathy stood out here at this intersection and they marched, they walked, and they prayed, so that they can do things. So that we, the ones that's here today, can do what we are doing now!", she exclaimed. She continues with pride saying that even if you don't know who she is speaking of, it still had a tremendous impact on where we are today. It all started right here in Montgomery!

Speaking of her vision for the Centennial Hill and her store, she proclaims that it is in her to bring it back to where it was. "I am here to reclaim the land!" "Anything negative we gone get rid of it. I go through a lot to plant flowers outside, landscaping, sweep the street, and pick-up trash because I dare anybody to stop at this intersection and shake their head," she said with pride and determination. For someone who has accomplished so much in her career, she stepped out on her faith in God and using her voice and resources for good. As the famed group The Isley brothers once sang, "Who's that lady?" Well that lady is Miss Valerie Smedley and we salute you and the Tours of Montgomery.
All rights reserved, Gumptown Magazine. Copyright 2021.